Project Specifics:
Client:
NJ Department of Transportation (NJDOT)
Trenton, New Jersey
Location:
Trenton, New Jersey
Project Cost:
$24,185,000
Completion Date:
September, 1993
Reference
Chuck Young
Resident Engineer
NJ Department of Transportation
3906 Church Road
Mt. Laurel, NJ 08054
(609) 866-4940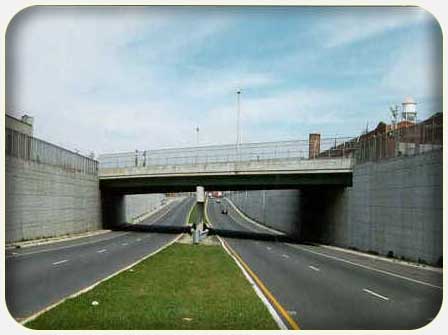 Project Details
This project was part of the major highway construction eventually connecting the City of Trenton with Interstates 195 & 295. The project was constructed from north of Hamilton Avenue to south of Lalor Street, Trenton, New Jersey. The project involved approximately 1.5 miles of highway construction including a bridge carrying South Broad Street and several tall reinforced concrete walls lining most of the length of the project. Immediately adjacent to the south side of this entire project was a Conrail freight line. Work adjacent to Conrail affected many aspects of the construction. Structures on this project were all pile supported and all excavations required extensive sheeting and shoring.
Also included in this project was the construction of proprietary retaining walls, dynamic compaction of compressible soils, traffic signalization, drainage construction, utility relocations and paving. Traffic control staging and coordination with Conrail were particularly important to the progress of the project. The project also included several jacked casings installed under Amtrak's northeast corridor and work adjacent to the northeast corridor.
This project was completed on time and within budget.