Project Specifics:
Client:
NJ Turnpike Authority
(Garden State Parkway)
Woodbridge, New Jersey
Location:
Tinton Falls, New Jersey
Project Cost:
$21,674,000
Completion Date:
December, 1987*
Reference:
Nassef Soliman
Parsons Brinckerhoff, Inc.
506 Carnegie Center
Princeton, NJ 08540-6243
(609) 734-7000
Entire Project completed in nine months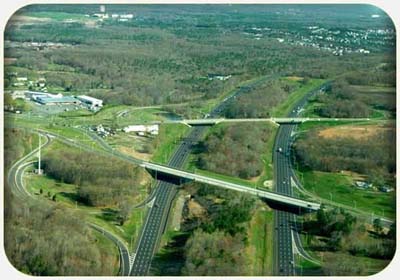 Project Details
The work under this contract consisted of the reconstruction of Interchange 100 of the Garden State Parkway. Roadway work included the widening of existing Northbound and Southbound roadways within the interchange area, and the relocation and reconstruction of N.J. State Routes 33 and 66.
Included with the roadway work was the clearing, grading, construction of new and reconstructed drainage facilities, guide rail, traffic signals and lighting. The embankments, ramps and roadway modifications to match the new alignment, were also constructed under this contract.
The drainage construction included an extension and repair of an existing box culvert under the relocated Rte. 66. This extension included a stress relief platform. The platform is made up of concrete footings, prestressed concrete beams, precast end walls and a cast-in-place deck slab.
The bridge work for this contract included the demolition of the four existing structures. The existing bridge abutments were removed by the use of explosives during nighttime highway shutdown periods.
The four new single span structures were constructed on pile supported conventional concrete abutments and piers. The spans consisted of reinforced concrete deck slabs on hybrid steel plate girders.
This project was completed on time and within budget.