Project Specifics:
Client:
NJ Turnpike Authority
(Garden State Parkway)
Woodbridge, New Jersey
Location:
Lakewood, New Jersey
Project Cost:
$ 16,232,546
Completion Date:
November, 2003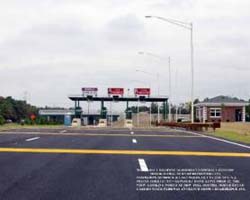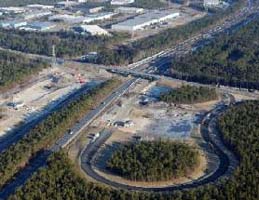 Project Details
This project involved the construction of a new interchange at milepost #89 of the Garden State Parkway. The new interchange has an entrance ramp onto the northbound Parkway and an exit off of the southbound roadway. These new ramps required widening of the Parkway mainline which passes under Cedar Bridge Road.
In order to expand the Parkway, the bridge carrying Cedar Bridge Road had to be demolished and lengthened. A new bridge consisting of cast in place footings, columns, caps and a structural concrete deck supported on steel girders was built in phases in order to keep traffic flowing at all times. Half of the new bridge was constructed next to the existing bridge. Once this structure was complete traffic was shifted onto the new structure and demolition of the old bridge started. After the demolition of the original bridge was complete we built the second half of the new bridge. Demolition work over the Parkway mainline and erection of new structural steel had to take place at night to minimize impact on traffic.
In addition to the new bridge on Cedar Bridge Road, many roadway improvements were constructed, including new retaining walls supporting the approaches, drainage, electrical systems, signage, and general roadway widening.
The new ramps off and on the Parkway mainline include toll booths and an administrative building at each toll plaza. The buildings are two stories and include offices, elevators, toll equipment and bathrooms. There is also a pedestrian tunnel under each toll plaza. We received a bonus from the Highway Authority for completing the project successfully and ahead of schedule.