Project Specifics
Client:
NJ Turnpike Authority
(Garden State Parkway)
Location:
Waretown, New Jersey
Project Cost
$16,489,592.04
Completion Date
March, 2007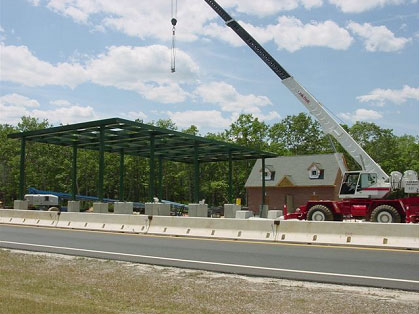 Project Details
This project involves the expansion of an existing interchange at milepost number 69 on the Garden State Parkway. Located in the environmentally sensitive Pine Barrens of southern New Jersey, this project had only a northbound exit and southbound entrance from Ocean County Route 532 to the Garden State Parkway.
The new interchange, when complete, will have all northbound and southbound entrances and exits for the local traveling public. In the interest of the public being able to safely utilize these new exit and entrance ramps, the Parkway mainline was widened as it passes underneath Ocean County Route 532.
A major part of the project includes replacing two bridge structures. One over The Garden State Parkway northbound and one over the southbound side to accommodate the widened Garden State Parkway mainline. The existing structures were systematically demolished over the Parkway mainline with intense traffic coordination and safety measures in place. The bridges were constructed in two stages so that existing traffic patterns could be maintained.
Both new structures are supported with 16" diameter pipe piles and cast-in-place concrete substructures. The superstructure includes simple span steel girders with cast-in-place concrete decks and parapets comprised of High Performance Concrete.
The new interchange also includes two new toll plazas and administration buildings at the northbound entrance and southbound exit ramps. George Harms Construction Co., Inc. completed the majority of building construction with our own forces, including the architectural masonry work that surrounds the new buildings. The new toll plazas were constructed with precast toll islands and concrete pedestrian tunnels beneath the toll plazas, and structural steel canopies.